The dining options available to members at Garza Blanca timeshare in Puerto Vallarta are varied and really quite amazing! Whether you want to dine in the gourmet restaurants at Garza Blanca, enjoy pool-side snacks or eat in your suite, Garza Blanca timeshare is mouthwateringly accommodating. This is why Garza Blanca timeshare's all-inclusive meal plans are so popular!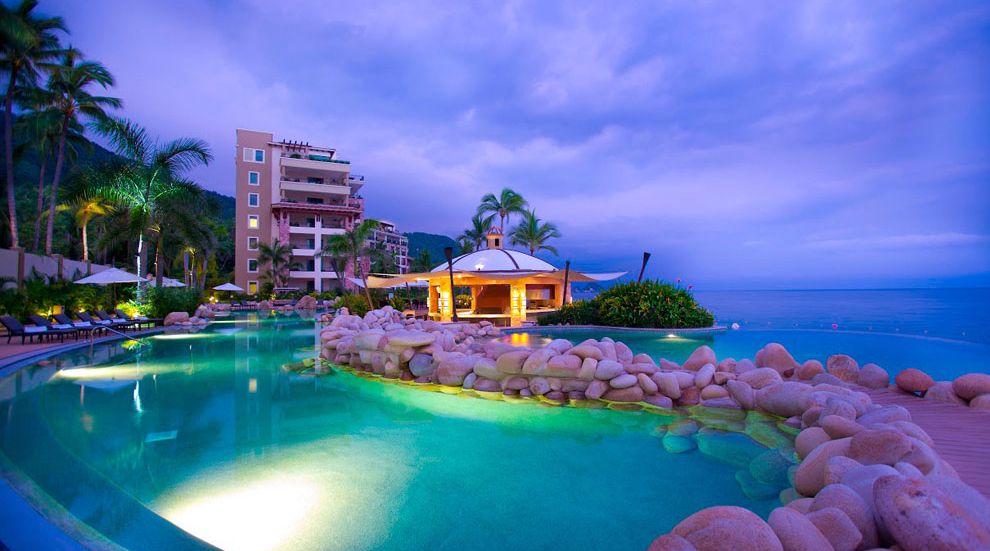 Restaurants at Garza Blanca Timeshare in Puerto Vallarta
When you reserve your accommodation at your Garza Blanca timeshare in Puerto Vallarta, you also have the option as a valued timeshare member to purchase an all-inclusive meal plan which will allow you unlimited access to the resort's on-site restaurants as well as 40% off the price of a meal at the new Hiroshi sushi restaurant at Hotel Mousai. If you are a member at Garza Blanca timeshare in Puerto Vallarta, you can also use up to 50% of your residence club points to pre-pay for an all-inclusive meal plan for you and your family!
The restaurants at Garza Blanca are:
1. Blanca Blue Restaurant: This was Garza Blanca's first gourmet restaurant and it offers a truly wonderful dining experience. An ocean-front location and huge windows serve to offer the most stunning views of the scenery and sunset available. From Blanca Blue you can see a transcending Puerto Vallarta coastline, including the Los Arcos rock formation!
2. Aquazul: Timeshare owners at Garza Blanca in Puerto Vallarta who love nothing more than to lounge on the beach, or by the stunning pools, will really get a kick out of Aquazul's gourmet snacks! This poolside restaurant delivers the option of eating formally, at a table, or of ordering snacks to eat by the poolside or on the beach. Because the only thing better than finding the perfect sun-lounger is being stocked with snacks and drinks while on it!
3. Bocados STK: A mountainside steakhouse, located at the base of Panoramic Towers 4 and 5, that will make your mouth water the second you step inside. From prime cuts to bite sized steaks, whether they be sirloin or rump, Bocados STK complements stunning views with sublime dining.
4. Hiroshi at Hotel Mousai: The cutting edge Hotel Mousai, located in the heart of the Garza Blanca preserve, offers all members purchasing an all inclusive meal plan the chance to get a 40% discount on the food at the Hiroshi sushi restaurant. If you use your residence points to stay at Hotel Mousai, of course, Hiroshi will be included in your all inclusive meal plan!
Of course, if these wonderful restaurants don't take your fancy, in-room dining is always an option at your Garza Blanca timeshare in Puerto Vallarta! You could order room service, have groceries delivered for a small charge, or even have a private chef prepare you a meal in your suite!
With so many restaurants at Garza Blanca to choose from, you won't go hungry, that's for certain.