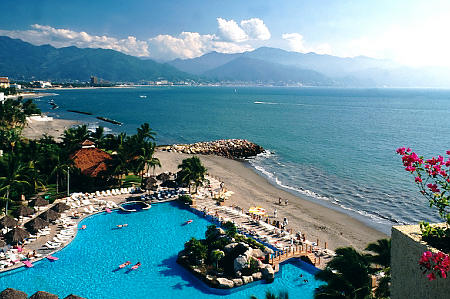 There are so many ways to answer the question: why visit Puerto Vallarta? Anyone who has visited this Mexican beach destination will know that seeing is believing. However, this article is going to do its best to describe as many reasons as possible why you should visit Puerto Vallarta. Words don't teach, but they help.
● Why Visit Puerto Vallarta in a Nutshell
● Great beaches
● The Malecon (boardwalk)
● Marina
● Gourmet Restaurants
● Safe
● Low spending costs
● Mountains
● Palm trees
● Tours
● Adventure
● All inclusive
● International airport
● Cheap flights
● Easy to navigate by taxi, bus or car rental
● English spoken
When you visit Puerto Vallarta, you will land in one of the easiest airports to navigate and one of the friendliest. And that's just the beginning. The airport is a maximum of 30 minutes from any of the major resorts in Puerto Vallarta and Nuevo Vallarta, including resorts on the south side of Puerto Vallarta, such as Garza Blanca Preserve and other luxury resorts.
Puerto Vallarta's beaches are celebrated among the best in Mexico, attracting visitors from around the world as well as national tourists who return year after year to visit Puerto Vallarta's best beaches. Another major attraction in Puerto Vallarta is that you can walk along the Malecon and enjoy its sculptures as they line the seafront while you pop in and out of restaurants and bars, all within walking distance.
Another major reason why visit Puerto Vallarta is the cost. It is pretty cheap to enjoy a vacation in Puerto Vallarta, from the cost of flights to the cost of resultants, tours, taxis and alcohol. Visiting Puerto Vallarta is a cheaper option than many other worldwide beach destinations.
And finally, Puerto Vallarta is one of the few sunny beach locations that has both lush tropical mountains and beach in one place. Here you can enjoy activities in the mountains as well as diving and snorkeling tours all in one day. As the weather is pretty much guaranteed to be warm and sunny, you can also forget about your warm clothes and sit back and enjoy the tropical delights of Puerto Vallarta.