If it were possible to drive to Holbox island, it would probably be about two hours from Cancun. However, the only way to get there from Cancun is by ferry (or plane) because the island is in a remote location in the Yalahau Lagoon. The seclusion of Holbox Island is what adds to its charm when people are striving to get away from the fast pace stresses of life. If you arrange your vacation right, you will find this excursion to be very fulfilling and relaxing.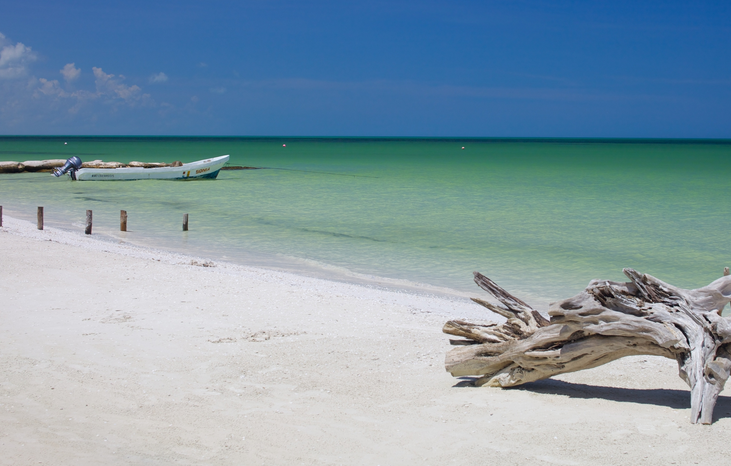 Visit Holbox Island
The beauty of Holbox Island primarily stems from the fact that the island is a well established ecosystem deemed to have global importance. That's why this 26 mile long, 1.2 mile wide remote location is currently a part of the Yum Balam Nature Reserve. This secluded ecological beauty houses over 150 bird species on Islas Pajaros (Bird Island) in the Yalahau Lagoon. An abundant of marine life is also worth seeing — especially if you visit between May and October and get a chance to see the whale sharks. The whale sharks are a popular attraction of Holbox island, and many tourists come just to get a chance to swim with them since they will not harm humans.
Because the island has been rarely touched by man-made construction, there is a lot of natural beauty to sink in while exploring the town and the sandy white beaches that seem to go on for miles. The peaceful atmosphere of Holbox's fishing village will leave you in awe as you wonder where this haven for serenity has been all your life. You can also relax while scuba diving, snorkeling, or going on a fishing tour.
Holbox Island also shares a similar history with Cancun: it has traditions rich with influences from the Mayan culture. The name of the island itself is a Mayan invention. The term "Holbox" actually means "black hole" in the ancient Mayan language. The Mayans attribute this name to the island because of the dark color of the lagoon water that many believed to be a pool of youth. It was said that you would come out feeling years younger after taking a swim in the lagoon, which the Mayans named "Ojo de Agua" or "Cenote". Locals and visitors from Cancun and beyond now see the lagoon and the entire island as a refuge for relaxation and water fun.