Hotel Mousai, Puerto Vallarta is a brand new hotel offered as part of the Garza Blanca Residence Club membership in Mexico. A luxury adults only hotel, Hotel Mousai is set to break the mold of lifestyle hotels in Mexico for sophisticated and chic vacations.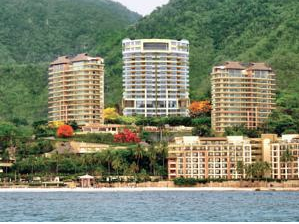 Location
Located in Puerto Vallarta, an elegant party town in Mexico, Hotel Mousai at Garza Blanca Residence Club is the ideal place for a lavish vacation with friends or your loved one. Elegance and style are found at every turn, with fabulous places for dining, nightclubs and bars as well as romantic tours and adventure excursions. Puerto Vallarta is favorably located on the Pacific Coast of Mexico with excellent access via air and sea. There is an international airport just 30 minutes from Hotel Mousai and a sea port.
Facilities
The lavish hotel tower is set within the Garza Blanca Preserve, and as such, gives guests access to both the facilities offered at Garza Blanca Preserve as well as exclusive access to Hotel Mousai facilities. Hotel Mousai guests will enjoy an incredible rooftop pool and bar 367 ft /110 meters above sea level, a sushi restaurant, an outdoor terrace restaurant and stunning spa and gym facilities.
In addition to these facilities, Hotel Mousai guests may use any of the 3 additional pools at Garza Blanca Preserve Resort & Spa as well as its restaurants, enjoying an exclusive Hotel Mousai guests only area on the beach.
Dining
In total, guest at Hotel Mousai have access to 6 dining areas that include gourmet restaurants: Hiroshi Pan Asian Restaurant, Blanca Blue, BocaDos STK, and breakfast and snack bars: Aquazul, The Terrace and The Rooftop. All this in addition to room service and all inclusive packages.
Relaxation
For relaxation, Hotel Mousai guests are welcome to visit Spa Imagine, the luxury spa on the 16th floor, with state of the art equipment and incredible views. Likewise, you may wish to lounge by the Rooftop pool, or perhaps workout at the gym or the outdoor fitness center. Of course, the beach is the number one place to relax at Hotel Mousai.